Originally published on DRGW.Net on Jan 30, 2011, from a trip on August 26, 2010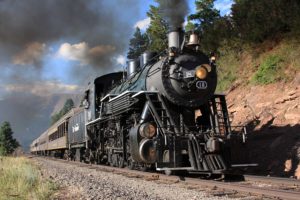 Last summer, between the Durango & Silverton's Railfest and the Cumbres & Toltec's 40th Anniversary Celebration, there were two open days with nothing to do. Thankfully, the San Luis & Rio Grande (aka the Rio Grande Scenic Railroad) came forward with an all day photo special that Thursday, 26 Aug 2010. Powered by ex-Lake Superior & Ishpeming 2-8-0 #18, the consist would be all brown heavyweight cars and the trip would be expressly a railfan photo special. The best part? $58, same as regular dome fare. For that price, who could pass it up?
Given what we got from it, the trip has more than earned the title "bargain trip of the decade". It was a downright beautiful day, the passengers did pretty well with photo lines, and we managed to stay out on the line for 14 hours, using two sets of crews to pull off 15 run-bys on some of the least photographed parts of the former Rio Grande – the La Veta Pass line.
In addition to just being a great trip, the SLRG omitted the full-length domes from this one. While very comfortable to ride in and nice to look out of, they look darn strange in photos being pulled by a small 2-8-0 made to haul iron ore. This one, as promised, consisted of just good old fashioned heavyweight cars. The train, from front to back going east, was SLRG 18, SLRG 3378 "Calumet Club", RPCX 1068, another unnumbered coach (possibly RPCX 5060), SLRG 1067 "Gila Valley", and SLRG 1056 "Lookout Mountain", the open air tail car.