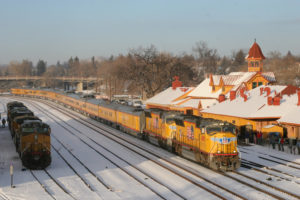 As part of the inaugural tour of the state by new Colorado Governor Bill Ritter and Lt. Gov. Barbara O'Brien, Union Pacific ran a passenger special with the two on board between Greeley and Pueblo. Along the route, the train wold be making stops for meet-and-greet events with the newly-elected politicians. Also, seats were open to the public, at a low $300 each. (Honestly, for some seriously rare mileage, that's probably a bargain.) Feeling a little broke, I figured I'd just photograph it instead, but even that came into doubt when the weather forecast was for snow and overcast skies.
The schedule for the train was published on the Governor's website as follows:
Saturday, January 13, 2007 – 7:30 a.m.: Passengers arrive at Invesco Field in Denver for bus check-in.
8:15 a.m.: Buses depart Invesco Field for Greeley.
8:30 to 9:30 a.m.: Pancake breakfast at the Greeley Chamber of Commerce/Train Depot, 902 7th Ave.
10 a.m.: Train departs Greeley.
10:45 a.m.: Train arrives in Brighton. Rally at Brighton Depot, 269 E. Bridge St. Event takes place in a tent in the parking lot with outside space heaters to keep participants warm.
11:15 a.m.: Train departs Brighton.
11:30 a.m.: Train arrives in Denver. Visit with Gov. Ritter in the mezzanine level of Union Station and enjoy hot chocolate, coffee and cookies. The 17th Avenue All-Stars acapella group will perform.
12:30 p.m.: Train departs Denver.
2:30 p.m.: Train arrives in Colorado Springs. Event at Giuseppe?s Depot Restaurant, 10 S. Sierra Madre.
3 p.m.: Train departs Colorado Springs.
5:15 p.m.: Train arrives at the Pueblo Union Depot, 132 West B Street. Fireworks display begins.
5:30 to 7:30 p.m.: Reception and spaghetti dinner, Pueblo Union Depot.
7:30 p.m.: Buses depart Pueblo.
9:30 p.m.: Buses arrive back at Invesco Field.
Contrary to weather forecasts from Friday, Saturday was blue and sunny over the Front Range, although bitterly cold. Throughout the day, temperatures hovered in the mid-single digits. So, I headed out with a couple other fans from Colorado Springs around 1020h to go find this unusual move. The train was scheduled to leave Greeley at 1000h and be into Denver for the first whistle-stop event at 1130h. Whether it made it out on time I don't know, but we made it to Union Station in plenty of time, as the special was 50 minutes down from the schedule upon arrival. The frigid cold hadn't deterred many from the media or from the railfan community, though, as there were plenty of cameras on hand when the train arrived.
Anticipating problems staying ahead of the train through South Denver and Littleton, we headed down to a spot just north of Sedalia to await its passing. While there had been rumors of the train running the wrong way on the northbound main in order to go around the coal traffic, this was confirmed by finding a stopped coal drag at Louviers. So we staked out a previously-unconsidered spot along the northbound main with a nice long clear section of track and plenty of snow on the ground. Around 1420h, the special arrived, making good speed but even further down from the schedule.
We caught it a few more times between Sedalia and Colorado Springs, but as it was moving right along, that was a bit of a challenge. Even though running 95 minutes late at the Springs, it was still there in time to be seen in the last rays of the sun. There were also a number of buses waiting in front of Giuseppe's (aka the old depot), so I suspect that some of the passengers may have completed the run on rubber tires so as to make the dinner in Pueblo on time.
For those interested, the consist was, from front to back:
UP 4898 – SD70M
UP 4965 – SD70M
UPP 208 – Power Car
UPP 202 – Cabarton
UPP 200 – Omaha
UPP 7001 – Columbine
UPP 5473 – Portland Rose
UPP 8004 – Colorado Eagle
UPP 4808 – City of Los Angeles
UPP 207 – Power Car
UPP 5468 – Katy Flyer
UPP 7011 – Missouri River Eagle
UPP 9005 – Walter Dean
UPP 102 – St. Louis
---
All photographs in this trip report were taken with a Canon EOS 20D using either a Canon 24-105mm F4 L IS/USM or a Canon 75-300mm f4-5.6 IS/USM.

This work is copyright 2022 by Nathan D. Holmes, but all text and images are licensed and reusable under a Creative Commons Attribution-NonCommercial-ShareAlike license. Basically you're welcome to use any of this as long as it's not for commercial purposes, you credit me as the source, and you share any derivative works under the same license. I'd encourage others to consider similar licenses for their works.