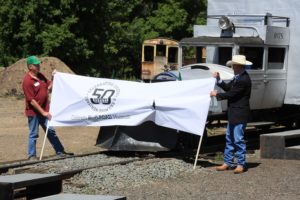 Fifty years ago, two legends in Colorado railroad preservation – Robert W. Richardson and Cornelius Hauck – opened up the Colorado Railroad Museum in Golden, with a little help from other railroad preservation enthusiasts. Their collection from the Narrow Gauge Motel in Alamosa had found a home in the foothills west of Denver. Since then, the museum has become self-supporting, acquired a huge range of equipment, completed a full loop of track for operations, undertaken a number of projects to return equipment to operation, built the Robert Richardson library and filled it with the most comprehensive collection of Colorado railroading information imaginable. It's a huge testament to these two men, as well as the hundreds (if not thousands) of volunteers and supporters over the years that have made this possible.
On Saturday, July 11, 2009, the Museum invited supporters, railfans and the general public alike in to celebrate those fifty years with a small ceremony followed by a parade of various operating equipment running on the museum's track loop. Most significantly to Rio Grande fans, it marked the long-anticipated return of Rio Grande diesel #50, the only narrow gauge diesel locomotive the Grande actually owned. After some 25 years at the museum and 15 years of restoration work, 50 is fully functional once again. Aside from test runs, her official maiden trip around the loop happened Saturday morning.
Thank you to everyone over the last half century who has helped make the CRRM what it is today. Without all of you, many of us younger fans would have never been able to experience the likes of 346 or 318, or have access to the vast trove of knowledge that's been accumulated in the library.
---
All photographs in this trip report were taken with a Canon EOS 40D using a Canon 24-105mm F4 L IS/USM.

This work is copyright 2022 by Nathan D. Holmes, but all text and images are licensed and reusable under a Creative Commons Attribution-NonCommercial-ShareAlike license. Basically you're welcome to use any of this as long as it's not for commercial purposes, you credit me as the source, and you share any derivative works under the same license. I'd encourage others to consider similar licenses for their works.