The weekend of Feb 29 – Mar 1 saw something that hasn't been seen on Colorado narrow gauge rails in 23 years – a rotary snowplow in action. Since the last rotary run in 1997, the two former D&RGW rotaries preserved on the Cumbres & Toltec have sat silently in the Chama yard. With no need to keep the line open in the winter and bulldozers handily performing any snow clearing needed for opening day, there simply hasn't been the need to spend the time and money to operate these costly but historic tools. Most of us never thought we'd see either of them run again.
Rio Grande Narrow Gauge Rotary History
The Rio Grande originally had four narrow gauge rotaries – OM, ON, OO, and OY. OM was the Rio Grande's first rotary plow, ordered as D&RG rotary #1 in 1889 to keep the new standard gauge mainline opened. Four years later in 1893, it was converted to narrow gauge service along with its twin, rotary #2. The pair became OM and ON in 1907. The Grande's third NG rotary, OO, was built by Cooke in 1900 as the Crystal River Railroad #60 and purchased by the Grande in 1916. Despite being newer than OM and ON, it was also the smallest at only 40 tons, compared with the other two at a hair over 50t. Finally, in 1923, the Grande ordered its last and largest (70t) rotary from Alco (Cooke's successor) – plow OY.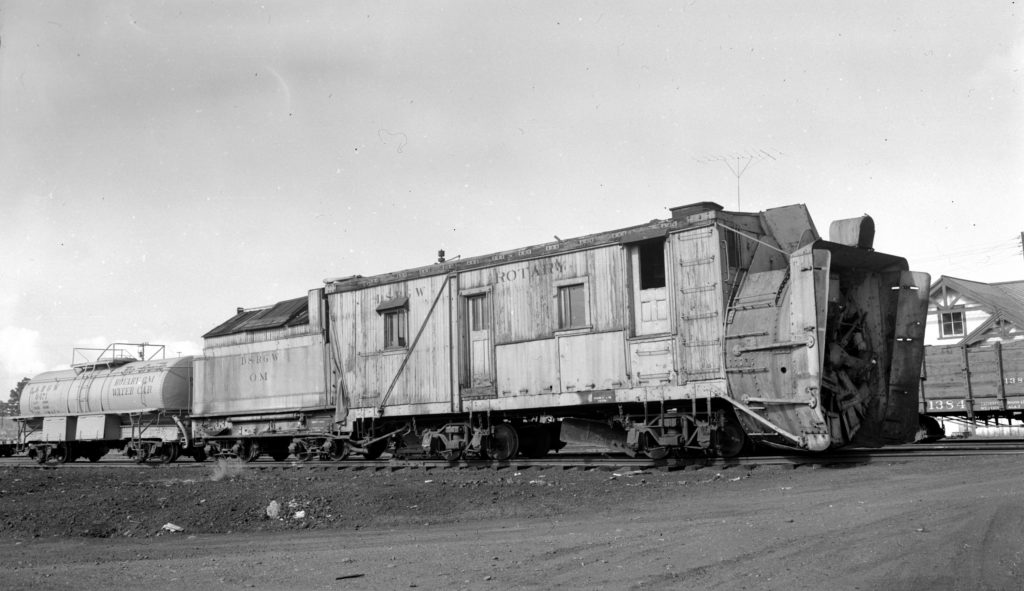 The four plows were based out of major narrow gauge terminals on each side of heavy snow areas. OO remained based in Gunnison for most of its career, tasked with keeping the Crested Butte, Floresta, and Anthracite branches open in the winter. ON was based in Salida and worked Poncha and Marshall passes, as well as the Monarch Branch. OY, stationed in Alamosa, would work the east side of Cumbres. OM, based out of Chama, would work the west side of the pass.
Today, only two of the four survive – OM and OY. OO was the first to go, scrapped in Gunnison when it was left behind after the Marshall Pass line was pulled up. ON had been sent to the White Pass & Yukon Railroad in 1942 to support the war effort. It was retired after the war, and finally scrapped in 1968. OM and OY were retained by the Grande for dealing with Cumbres Pass. Generally speaking, the larger K-36s and K-37s, equipped with their large winter plows, did a good job of keeping the line open except in the deepest of snows. But when those snows came, the two plows were called into service. By the end, however, there was simply no need to keep the line open during the winter. OM last operated in 1958, and OY in 1962, but both were retained should they ever be needed again.
As part of the sale of the Cumbres Pass line to Colorado and New Mexico in 1970, OM and OY were sold with the rest of the equipment. Not only are they the two plows that historically worked the line, but they also represent the first and last of the narrow gauge rotaries. It's only fitting that they wound up on the Cumbres & Toltec, since they're an important part of the story.
The C&TS, like the Rio Grande of the 1960s, has no real need to open the line in the winter. In the spring, bulldozers do a much better job than the old rotaries at chipping through months of compressed snow turned to ice. Over last the 50 years, the rotaries have periodically been brought out for service, usually as purely historic demonstrations, but in the 1980s and 1990s were actually used to clear the line for service.
I don't have a comprehensive list of rotary operations in the last 50 years, but this is what I've compiled from news in the FoCTS Dispatch (Spring 2020) and posts on NGDF:
Jan 12, 1974 – OM w/487 and no water car, went 2 miles out of Chama
Feb 1-2, 1975 – OM w/487, went 4 miles out of Chama
mid-Feb 1975 – OM w/487, went to Cresco to clear track for a commercial
Feb 15, 1976 – OM w/487 and 483, ran to Lobato
Feb 1978 – OY w/487
Mar 1978 – OY run for Miller beer commercial
Apr 1978 – OY clears entire railroad Chama to Antonito
May 1980 – OY clears entire railroad Chama to Antonito for movie shoot
May 1983 – OY (2 days)
May 1991 – OY (2 days – chase train second day)
May 1993 – OY w/three K-36s (3 days)
May 1994 – OY (1 day)
May 1995 – OY w/three K-36s. (2 days) OY broke down at Los Pinos 2nd day
May 1997 – OY (in grey) w/three K-36s (3 days)
The 2020 Rotary OY Trip
John Bush broke the news on April 21, 2019, with an announcement that the C&TS would be bringing rotary OY back into service as part of their 50th Anniversary year in 2020. "Limited spots" would be available for photographers, and a waiting list was opened that eventually grew to over 500 people.
Meanwhile, the railroad started making preparations to get OY back is serviceable condition. Rotary OY was in remarkably good condition due to a very limited number of operating days since its construction (Stathi's guess was less than 90), but it still needed things like asbestos abatement, boiler recertification, and general maintenance. Plus, sitting outdoors in the Chama weather had not been kind to its wooden exterior, and a good deal of maintenance was needed there.
On June 13, 2019, the railroad used 463 to push OY from Chama to Cumbres. The train consisted of OY, 463, coach 500, and caboose 0306. Once at the top, the rotary was turned and placed at the back of the train for the remainder of the trip to Antonito, so that the locomotive would remain on the downhill side for safety. Once in Antonito, the railroad did most of the mechanical work, while the Friends rebuilt and repainted OY's wooden body at their restoration facility. Work completed, 463 and OY returned to Chama on November 14.
Late in the afternoon on November 8, the long-awaited email finally arrived in my inbox – 150 participants, $1200 each, book now or forever miss the opportunity because somebody down the list would get your spot. I got the original email at 4:05pm while sitting waiting for a train out to the Denver Airport, and booked on the spot. By 4:10pm, I had my ticket confirmation email.
There's a couple problems trying to get good photos of rotaries. If a steam-driven rotary plow is doing what it's intended to do, it and its accompanying locomotives are generating massive plumes of steam, smoke, and ejected snow that blot out everything else. Plus, the best photo spots may be inaccessible due to deep snow, and those spots may be directly in the line of fire for the plow. Given these things can hurl sizable rocks and chunks of ice through the air, you definitely don't want to be near the output stream. There's a third problem if you're running the rotary for the photographers – you get every run-by exactly once, because after that, the snow's gone.
They're also expensive to run. In addition to all the work needed to bring it back to serviceable condition, once the big day arrives, you need a crew for the rotary and a crew for each of the two pushing locomotives, plus support staff. As photo spots would be mostly along the roadside, further costs were incurred to shut down lanes, run buses, and do traffic control for the participants. That adds up to a lot of people needing to drop a lot of cash in order to just break even.
The railroad folks pulled off the miracle of keeping this zoo organized during the two days of operations. It actually worked out far better than I anticipated. Charter participants were loaded on charter buses, and driven to photo spots. Lanes were closed by flaggers working with the New Mexico State Police or Colorado State Patrol (depending which side of the border we were on) and the lines were set up right on the side of Highway 17. Once the line was set, the rotary would come ahead, giving us our run-by. Basically it turned into a rolling construction zone and, for the most part, it worked.
Day 1 – Cumbres to Cresco (Feb 29, 2020)
The first day was about as nice as you could ask for – beautiful blue skies and not that cold once the sun came up. Breakfast was provided by Fina's over in the hall at St. Patrick's Church, and then by 8:15 we'd be over at the depot for the daily safety briefing and load up on the buses. The plan was to work as far up the line as hours and snow would permit. Afterwards, we'd all come back and have dinner, and then they'd spot the rotary under the coaling tower for a night shot.
This year's snow plowing train would consist of OY up front, followed by water car D&RGW 0472 to supply it, then K-36 487 and 484, followed up by cook car 053, outfit car 04258, and caboose 0306.
Day 2 – Cresco to Cumbres Summit (Mar 1, 2020)
Sunday was much the same drill as Saturday – breakfast at the church, be in the yard by 8:15 – but the weather wasn't nearly as nice. The day had dawned cloudy and overcast, and it kept trying to snow. Actually that worked to our advantage in a number of ways, however. Many of the day's potential shots didn't work with hard morning light, and having a bit more event environment in which to shoot would help soften the shadows.
The rotary would start working from where they left off at Cresco in the early morning hours, and we'd join them just below Coxo – the first place the line really becomes visible again. From there, we'd get a few shots, and then the equipment would pull up and take water at the road crossing from the C&TS's big fire suppression water truck. After all, they'd been working through snow all the way since Cresco. From there, it would be up to the summit for more shots. If time and resources permitted, they'd then go on down Tanglefoot.
We got some decent stuff coming up to the summit, since there was 4-6 feet of snow at the top. (That's actually not terribly much for Cumbres at that time of year.) However, just over the Highway 17 crossing, the huge snowpile built up by CDOT plowing the highway had turned to solid ice over the rails. When they started to move OY over the crossing, its pilot truck began to ride up and over the rails. After backing the plow off and some manual digging, the crew decided there was too much ice to dig through and it wasn't worth the risk of derailing and really making a mess, so we called it a day.
Video
I'm not normally a video guy, but rotaries are one of those things that you need to see and hear work to truly appreciate them. So I bought a new mic and pulled out my old 70D for a few clips along the trip.
While it was a lot of cash for only a handful of photo ops, I don't regret it for a second. The opportunity to actually see OY in action was worth the price, even if I'd come home with nothing. While never say never, I suspect it'll be a long time before the C&TS does another rotary trip. It's an expensive proposition, not only for the machines and the crews, but organizing the logistics of moving fans around, closing lanes, etc.
And Then The World Shut Down…
At this point, we'd only started to hear about this "novel coronavirus" thing becoming a real issue in the US. Little did we know that the country would pretty much shut down a week later. The great 50th Anniversary Year for the C&TS would be put on hold until 2021. But it did indeed happen, and I'll cover that in a future trip report.
---

This work is copyright 2022 by Nathan D. Holmes, but all text and images are licensed and reusable under a Creative Commons Attribution-NonCommercial-ShareAlike license. Basically you're welcome to use any of this as long as it's not for commercial purposes, you credit me as the source, and you share any derivative works under the same license. I'd encourage others to consider similar licenses for their works.